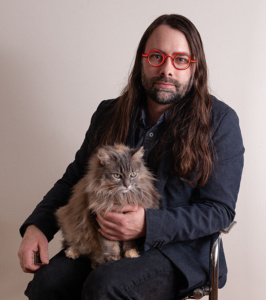 Jason Houge – Photographer, Author, Educator and Mentor.
To create his compelling and often haunting photographs, Jason Houge draws on his own turbulent past and works from an empathic perspective within each community the work comes from. Born in 1979 in John Day, Oregon, Houge was raised in Green Bay, Wisconsin. His interests in the sciences, nature and the environment began at an early age. Informed by frequent trips to the local library and teachers at school, he took to making discoveries and learning about the world first-hand through self-guided exploration and kept a journal to draw and write about his findings. At the age of 7 he began borrowing his mother's Kodak 110 camera to photograph friends at the neighborhood park and at school.

After abandoning photography during the tragic years of adolescence, his interests were rekindled with the gift of a Nikon 35mm SLR at the age of 23. Several years and a degree later, Houge has become an artist, activist and documentary photographer producing work that addresses his past, explores the lives of feral cats, discusses poverty and homelessness, seeks to capture the wonder of childhood and breaks through racial barriers.

Houge enjoys sharing the passion he has for this craft and was the Sr. Associate Lecturer of photography from 2014-19 at his alma mater and guest lectured to students at Harvard. He left teaching in 2019 to support his partner, Kayla Bauer, in her pursuit of an MFA in photography at the University of Wisconsin – Madison. Today, Houge is himself a graduate student at UW-Madison with a graduation date set in 2025.

Houge holds a BA in Art and Visual Design from the University of Wisconsin – Green Bay.
He currently lives in Madison, Wisconsin.
CV | Published Work | Print Sales | Contact